Extensive Salary Survey of managers and executives in the Czech Republic
The annual EXESS survey, conducted in cooperation with ExecutiveJob.cz, is becoming a unique source of data in the area of executive remuneration in the Czech Republic. With more than 1,200 managers and executives participating, this survey offers some of the most detailed and up-to-date information on compensation trends and preferences in the area of executive benefits.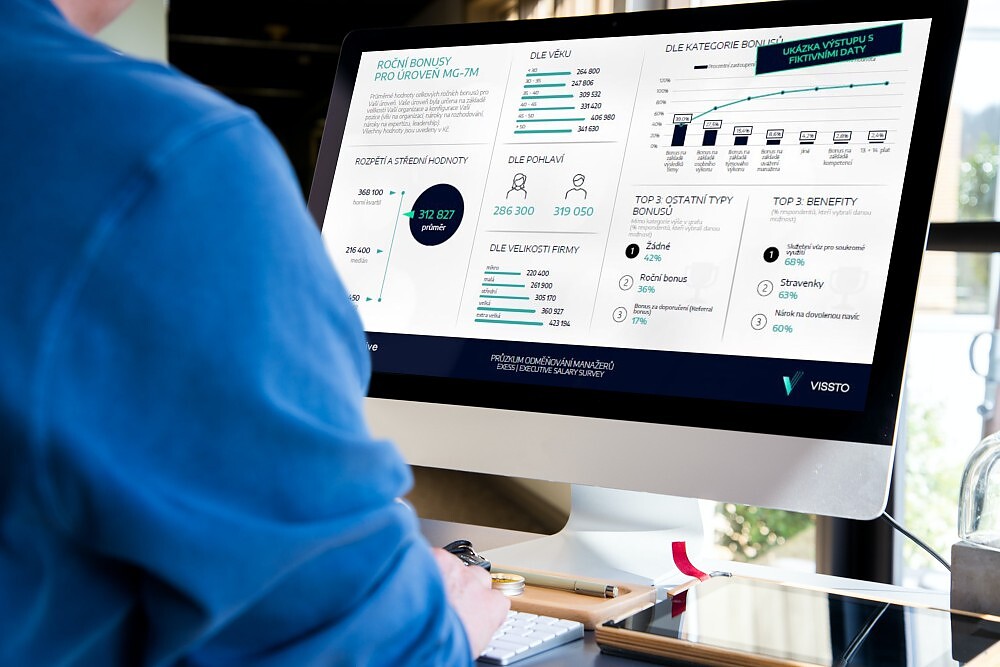 Wages, bonuses, benefits, motivation and leadership
Our research is not limited to basic salary structures, but also includes financial bonuses, benefit packages and the most important factors influencing managerial decision-making and motivation.
With the help of the EXESS survey, we are able to reveal the dynamics of managerial behaviour and preferences in the area of career growth, which provides a comprehensive and deep insight into remuneration trends in the Czech labour market.
What findings will our survey provide you with?
Do you want to find out what are the differences in remuneration at selected managerial levels/positions in your company and the market?
Are you interested in the remuneration structure - base salary and setup or types of annual bonuses at the selected managerial position?
Do you want to compare the remuneration of selected managerial positions with other companies in your industry or region?
Do you want to find out what are the differences in remuneration between all the observed managerial levels in the market?
Are you interested in how managers' approaches to leading teams differ based on their length of experience, company size, or individual levels?
How do managers typically behave when changing jobs and what is key for them when choosing a new company?
What proportion of managers are thinking about their next career move within your company, and how many would rather seek their next challenge from a competitor?
How much more do managers at each level tell each other when they change positions?
What are the most popular benefits among managers?
What do managers most often use to motivate their subordinates?
What is the predominant managerial style in the Czech context?
This and many other answers will be provided by the EXESS23 survey.
Survey based on the Vissto Cubes methodology
The Vissto Cubes methodology, on which the survey is based, allows for a comprehensive and differentiated assessment of management positions, taking into account a variety of factors:
Size of the organisation
The size, type and structure of the team
Position autonomy
Complexity and scope of responsibilities
Based on this rating, positions can be assigned to a certain level (grade), which allows for comparisons in remuneration across the market. In this way, it is possible to compare positions from different company sizes, functional groups, industries, locations and observe how they differ in remuneration.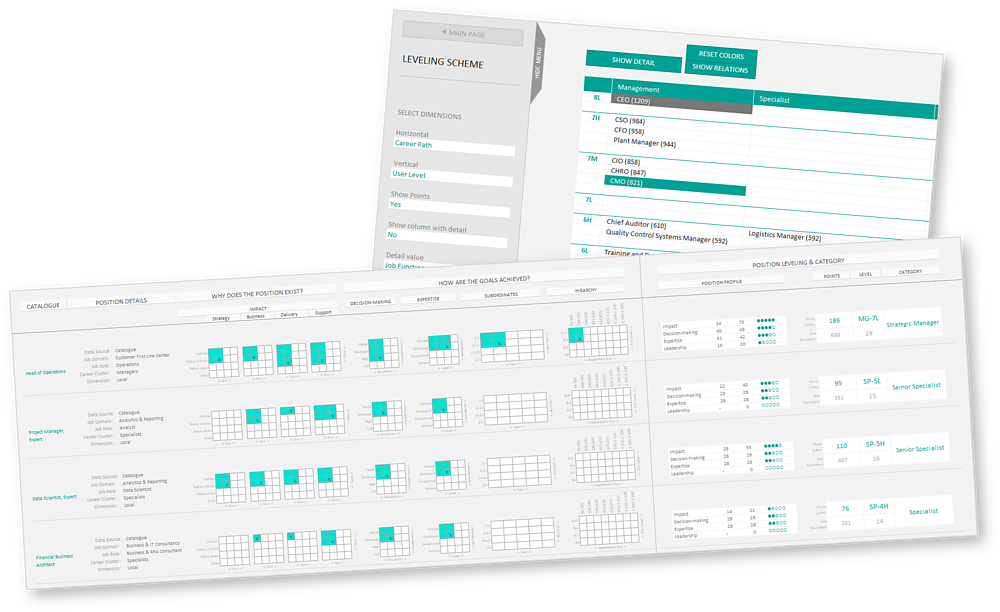 ---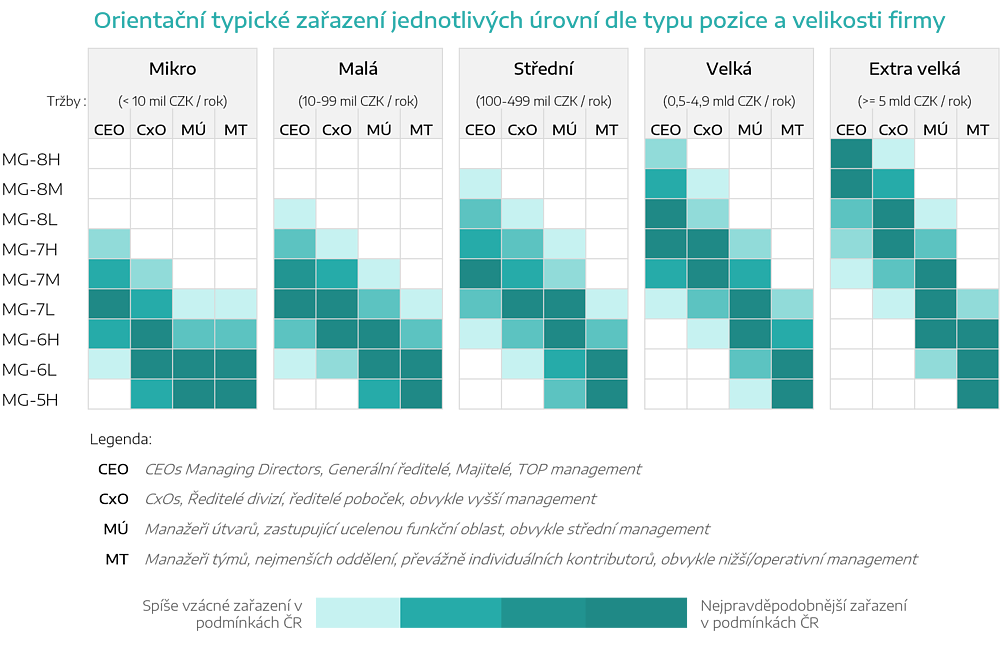 Detailed inspection and quality assurance
In order to ensure high quality and reliability of data, our team performs thorough and careful data checks and cleansing. The process includes manual verification and checking, which is essential to eliminate any errors and inconsistencies.
In addition, we use innovative methods, including advanced automated checks, to quickly identify and remove inconsistent or invalid data.
To further enhance the reliability of our results, we use a dedicated machine-learning model to help us verify every piece of data provided.
Thanks to these sophisticated methods, you can be absolutely sure that all the data we provide is not only reliable, but also accurate and up-to-date.
---
Survey results as part of a licensed tool
The Smart Salary Configurator (SSC) is the result of our efforts to provide you with an effective tool for managing and setting up executive remuneration policies.
With this configurator, you can individually set and combine data in four key categories, which include:
industry
location
management functional area
the size of your company

This allows you to effectively set competitive remuneration and create a stimulating working environment for your managers.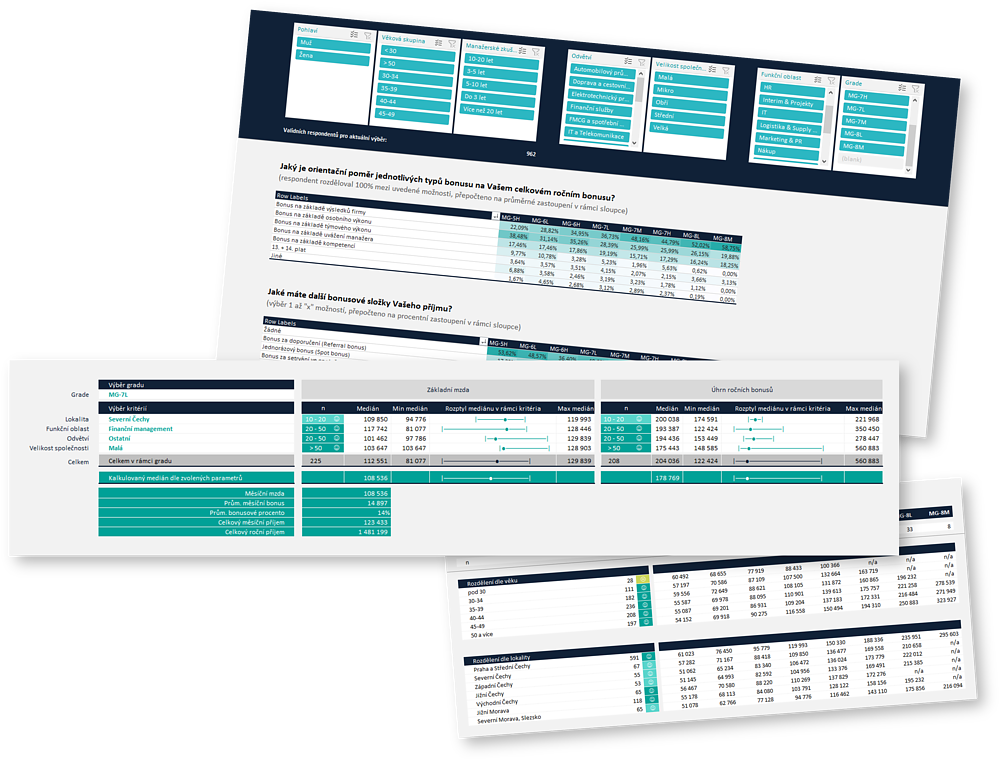 ---
Are you interested in cooperation or additional information?
Would you like to know more about this product?
Is there anything you do not understand from the above description?
Are you dealing with a specific situation and would like to ask if we can help you?